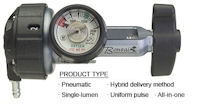 Chad / Drive Bonsai Pneumatic ( No Battery) OM-812 Oxygen Conserver - SKU-20053
The most popular pulse dose oxygen conserver on the market. Everything you wanted in a light weight Oxygen Conserver. This latest design technology increases cylinder time by as much as
6 times
and has equivalent flow settings from
.5 to 6 LPM
and a designed operating pressure up to
3000 PSI
for the new
High Pressure
cylinders and
Home Fill Systems
or any standard cylinder.
The OM-812 has two
fixed continues flow
settings of
2 LPM or 4 LPM
, Default Mode.
You Get
: Pneumatic construction eliminates the need for batteries. Delivers up to
6 : 1
Savings Ratio increase in usage time over continuous flow. This means a cylinder with a
BONSAI
Conserver will last up to
six times longer
than a cylinder with no conserving device.
Offers
1-6 lpm
flow equivalency settings and has a contents gage standard. Delivers fixed pulses of oxygen within the first 150 milliseconds of inspiration. Utilizes a standard,
single-lumen
cannula. Clinically-determined delivery pattern and bolus size to ensure saturation up to
40 breaths
per minute. Weighs
9.9 ounces, Dim: 5.3 L X 2.3 D.
offering extended Ambulation with minimum weight and bulk. Reliability backed by a
2-year warranty
from Chad/Drive.