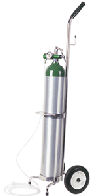 E Oxygen Cylinder System With Deluxe 2 Wheel Cart .5 to 8 or 1 to 15 LPM Continues Flow Regulator - SKU 20000

The Ideal system for emergency back up or for office, entire system weighs only
13.5 Lbs
. The
E
Cylinder holds
680 Liters
and comes with a
.5 to 8
LPM or
1 to 15
LPM continues flow regulator.
Estimated time @ 2 LPM is 5.7 Hours.
ADD
the Bonsai Conserver and get
28.3 Hours
at a setting of 2 Pulse Dose.
Comes with a two wheel Deluxe Cart, Regulator, E Cylinder. Cylinders are DOT 3AL and CTC 3AL approved.

With a Toggle Valve and a 2 Year Warranty.

Note: This System Shipped Empty -

See bottom of this page
.
Prescription is Required Per the FDA.
This is a Must Have for Emergency backup if you have purchased your own Home or Portable Oxygen Concentrator.