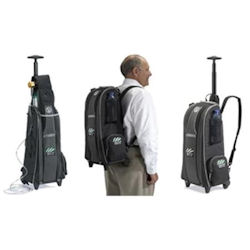 The SideKick Roller Oxygen Cylinder, BackPack, Shoulder Bag System - SKU 15055
The SIDEKICK is the ideal oxygen cylinder companion for any portable oxygen cylinder user. This unique bag can be used as a roller bag with two wheels or converts to a backpack or shoulder bag with the straps that are included (shown with shoulder straps).
The Only Roller Bag to handle a
Large Cylinders
like the
Jumbo D or E
.
The front pocket opens using a large EZ-Grab zipper tube puller making it simple to open both front zippers at the same time. The main pocket contains
2
large elastic mesh compartments that can store extra tubing or additional supplies. Two large wide cylinder security straps can be easily cinched around your oxygen cylinder to secure it into place. Designed for use with a standard regulator or a conserving device. The oxygen tubing (hose) can then be run through one of three grommet holes so that you can completely conceal your oxygen system within the bag. 
Once your oxygen system is secured into place, a dual position roller handle can be extended to roll the bag similar to roller luggage. To convert the bag to a backpack, simply retract the roller handle, and extend the two hidden padded backpack straps and clip them to the D-rings near the bottom of the bag. The bag is
triple padded
in the back to minimize the pressure from the cylinder and roller handle against the back. 
This bag is constructed from washable, heavy-duty denier, has a large external mesh water bottle holder, embroidered carrying handles for easy pick up, a large external zippered pocket, and is lined with reflective silver piping for easy visibility at night. The SIDEKICK is Just:
23.5" long x 10.5" wide (base) x 8.5" deep and weighs 4.75 lbs
.  With a 1 Year manufacturing defect warranty. The bag can accommodate
2 Each:
M2, M4 (A), M6 (B), ML6, M9 (C)

OR

1 Each: D, Jumbo D or E size cylinder
.
An inside zippered pocket extends a panel to cover the taller E size cylinder. 
NOT FOR USE WITH LIQUID SYSTEMS or PORTABLE CONCENTRATORS
.
Get the right bag for the right cylinder. GO TO Cylinder Size CHART: