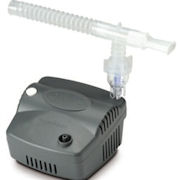 Devilbiss PulmoNeb LT 3655LT Compact Compressor Nebulizer - SKU 17004
The
PulmoNeb LT
with disposable Neb Kit, provides effective long term therapy at an amazing low price. The small, compact nebulizer design allows for therapy at home or can be easily transported for use while on the go. Features:
30 PSI
and Free flow rate up to
12 LPM
, ease-of-use and the same reliable year after year operation you have come to count on from Devilbiss for the last 30 years. This is the perfect solution for those seeking an effective treatment from a quality, powerful Nebulizer.
Width: 5-3/4"
Height: 4"
Depth: 6"
Weight: 2.75 lbs.
Max Power Consumption: 140 Watts.
Power Requirements: 2.5 amps, 115 VAC 60 Hz
Made in the USA
With a
5 Year
Limited Warranty
by Devilbiss.
Prescription is Required per the FDA.
MSRP: $ 75.90 SAVE $ 25.95