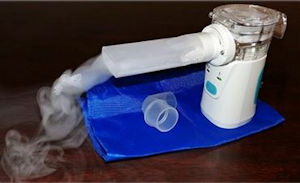 Ultra Sonic Vib Mesh Nebulizer, Model HL100AA - Nebulizer System - SKU 17029
This is the ideal
very small
yet
powerful
travel companion or home use. Medication cup can hold up to
8cc
. It is Ultra Light weight, just
3 Oz.
Very Small,
2 3/4 L x 1.9/16 W x 3 5/8 H
. Yet very fast and convenient, easy to use and has a Self Cleaning button and battery condition indicator. Can use
any standard
adult or pediatric Mask. Almost Silent, so using while at home, baby sleeping or in a movie theater, taking a treatment is easy and silent.
Uses
two AA Batteries
that can deliver up to
1.5 Hours of treatment time
and can be replaced in seconds.
Typically can get up to
18 treatment @ 5 Minutes each
. on one set of batteries. With a
2 Year Warranty
by BV Medical.
Comes complete with Mouthpiece, Travel Bag, Mask Adapter, Medication Cup, 2 AA Batteries and full instructions for use and cleaning.
Prescription is Required by the FDA.